Parent-child contact and post-separation parenting arrangements
Research Report No. 9 – July 2004
You are in an archived section of the AIFS website. Archived publications may be of interest for historical reasons. Because of their age, they may not reflect current research data or AIFS' current research methodologies.
1. Why study parent-child contact?
by Bruce Smyth and Ilene Wolcott
The changing nature of family life and patterns of women's and men's workforce participation have meant that the parenting roles, expectations and responsibilities of mothers and fathers are in transition. This has led to a softening of the boundaries around the care of children (Fuligni and Brooks- Gunn 2004), and has prompted re-evaluation of the previously accepted postdivorce (maternal) 'sole custody' model of parenting, towards encouraging co-parenting after separation (Ricci 1997).
Yet despite widespread interest in the way that patterns of parenting might be changing and evolving, significant gaps exist in our knowledge of contact between non-resident parents (mostly fathers) and their children. Indeed, apart from some of the general findings about the frequency and overall amount of parent-child contact (described below), not a great deal is known in Australia.
The Parent-Child Contact Study, which forms part of the larger the Australian Institute of Family Studies Caring for Children after Separation Project, explores different patterns of parenting among separated and divorced parents with children under 18 years. It aims to shed light on some of the main patterns of post-separation parenting beyond what has become known as 'standard' contact (every-other-weekend and half holidays), and the qualitatively different experiences these patterns might provide family members. Five patterns are explored: (1) 50/50 shared care, (2) little or no contact, (3) holiday-only contact, (4) daytime-only contact, and (5) 'standard' contact.
Why look at different patterns of parent-child contact? There are several good reasons to do so. First, at the level of public policy, the Australian Government recently held a parliamentary inquiry to investigate whether a presumption of joint residence (that is, 50/50 shared care) should become part of Australian family law. Under such a presumption, the starting point in any legal proceedings would be that children spend equal time with each parent unless there was evidence that this arrangement would not be in children's best interests.
The Parliamentary Committee investigating the proposed 'joint custody' model recently rejected the notion of 'equal-time' parenting in favour of a presumption of 'shared parental responsibility' (Commonwealth of Australia 2003). However, there is likely to be ongoing lively debate about just what 'sharing' the responsibility for children means, the extent to which it is a realistic legal and moral mandate, and how timesharing ('parenting time') aligns with a 'shared responsibility' model. Exploring parents' schedules, perceptions and motives in relation to their parenting arrangements might help to clarify some of these thorny issues by illuminating how parents with different arrangements share the care and responsibility for their children, and their reports of their experiences.
Second, at a practical level, parents, and the professionals who they might approach for assistance, are often unaware of different ways of doing things in relation to structuring post-separation parenting arrangements. Every-other-weekend residential schedules appear to be the dominant post-separation parenting paradigm in most western countries. In the United States, Lye (1999) found that many legal professionals promoted these schedules and that parents often had limited information about other patterns of care. Examining different parenting arrangements through information-rich qualitative frameworks can shed light on a variety of different arrangements, why separated parents opt for particular arrangements, and what 'works' for them and their children and what does not.
Third, at a more theoretical level, researchers working in the area of divorce continue to grapple with the many complex issues surrounding restructuring one family unit into two stable functioning units, including setting out the financial and parenting arrangements, and dealing with the many subsequent role transitions for family members. Patterns of parenting in both intact and separated families are often complex and dynamic. There is thus much value in using qualitative approaches to explore the sometimes subtle, sometimes notso- subtle shifts from one pattern of care to another - such as the shift from every-other-weekend contact, to holiday-only contact, to no contact. Such transitions are likely to involve complex structural and psychological processes that cannot be identified by quantitative data collected at a single point in time.
In setting out the various rationales for this research, it is important to note that the primacy of children's best interests cuts across all three rationales. While the paramountcy principle remains the bedrock of the Family Law Act 1975 and of subsequent legislative reform, more recently this concept is being challenged - what constitutes children's best interests, how should these interests be assessed and aren't children's and their parents' interests inextricably linked?
Patterns of post-separation parenting
In 1997 around one million children in Australia under 18 were living with one natural parent and had a parent living elsewhere (ABS 1998). This represents about 21 per cent of all children under 18 in Australia. For 88 per cent of these children, the parent with whom they lived was their mother. Only a tiny proportion (3 per cent) were in 'shared care' arrangements,1 although another 4 per cent of children had daily face-to-face contact with a non-resident parent. A more recent estimate based on both mothers' and fathers' reports, derived from the HILDA Survey, suggests that around 6 per cent of separated households share the care of dependent children.2
Of concern, however, are data that indicate that almost one-third (30 per cent) of children with a natural parent living elsewhere - according to resident parents - rarely or never see their other parent, typically their father (ABS 1998) (see Figure 1a).3 Of those who do see their non-resident parent, a significant minority (34 per cent) never stay overnight (Smyth and Ferro 2002) (data not shown). Again, these estimates are mirrored with more recent data based on both mothers' and fathers' reports (see Parkinson and Smyth 2003).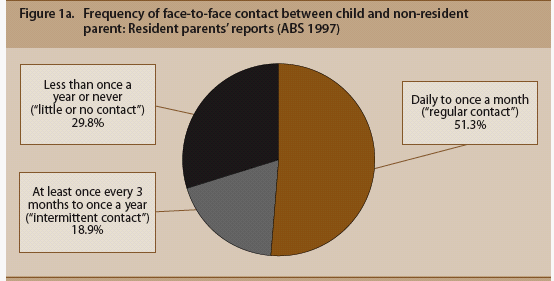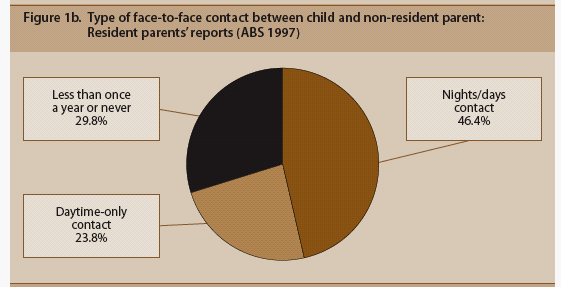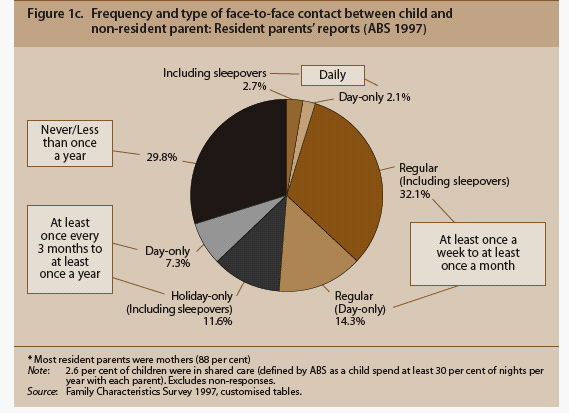 Figure 1a shows that about half (51 per cent) of all children under 18 with a parent living elsewhere have fairly frequent face-to-face contact with that parent; the other half do not. However, as evident in Figures 1b and 1c, other patterns of contact (such as daytime-only or holiday-only contact) suggest that post-separation paternal involvement is far more complex than this - certainly more complex than early 'absence/presence' binary models might have assumed (Day and Lamb 2004; Flood 2003; Pasley and Braver 2004). For instance, as evident in Figure 1c, around 12 per cent of children stay with their other parent at least once every three to six months to once a year - a loose proxy perhaps for holiday-only contact - while another 7 per cent have a similar level of contact but without overnight stays, suggesting occasional day contact which might indicate more emotionally tenuous parent-child relationships. In this and many other respects, the above figures raise more questions than answers about the type of parenting arrangements that are in place and how these are experienced.
It is important to note that hidden underneath these broad patterns of contact is a high level of dissatisfaction around post-separation parenting - especially for non-resident fathers. For instance, Parkinson and Smyth (2003) found that a sizeable proportion of separated and divorced parents in Australia would like to see more contact occurring (75 per cent of non-resident fathers; 40 per cent of resident mothers). In addition, non-resident fathers with daytime-only contact report significantly lower levels of satisfaction with their relationship with their children than fathers who have overnight stays.
Furthermore, Smyth, Sheehan and Fehlberg (2001) found marked differences between resident mothers and non-resident fathers in their desire to change children's living arrangements. Few resident mothers (3 per cent) wanted any change compared with 41 per cent of non-resident fathers. Around two-thirds of these dissatisfied fathers wanted children to reside with them while the remaining one-third desired joint 50/50 care.
And in the most recent data available on the issue of equal shared care (Smyth and Weston 2004), three-quarters (74 per cent) of non-resident fathers in Australia, compared with only one-quarter of resident mothers (27 per cent), agreed with the idea that children should spend equal time with their parents after separation - which is in stark contrast to the tiny proportion of parents who actually exercise shared care. Equal-time parenting also has appeal to teenage children of divorced parents (Parkinson, Cashmore and Single, forthcoming). Of course, a basic axiom of social psychology is that attitudes are not always consistent with behaviour. Exercising or experiencing 50/50 care may be quite different from being attracted to it as an ideal of fairness for parents and children.4
The high levels of dissatisfaction apparent in the recent Australian studies attest to the difficulties inherent in allocating parenting time to meet the diverse desires and needs of all family members.
The literature
The shared parenting literature is both voluminous and complex. The bulk of this literature was produced during the 1980s by scholars working in North America (see, for example, Folberg 1991; Benjamin and Irving 1989; Steinman 1981) and has been updated more recently by a number of meta-analytic and narrative reviews (see, for example, Amato and Gilbreth 1999; Arendell 1996; Bauserman 2002; Irving and Benjamin 1995; Whiteside and Becker 2000). It is a literature fraught with challenge and ambiguity because of the various methodologies, samples and terms5 employed across studies.
Nonetheless a critical review of this literature reveals the following key findings.
The diversity of families and children's situations reinforces the conclusion that no single post-divorce arrangement is in the best interests of all children (Lye 1999; Mason 2000; Ricci 1997; Wallerstein and Blakeslee 2003: 192). In fact, 'one-size-fits-all' approaches, such as legal presumptions that favour certain specified arrangements, are likely to be harmful to some families (Lye 1999).
Most studies indicate that the interests of children post-divorce are generally best served when children can maintain continuing and frequent contact with both parents who cooperate and communicate and have low levels of conflict (Pryor and Rodgers 2001). Where there is high and continuing coparental conflict, or where children have experienced or are likely to be exposed to continuing domestic violence or child abuse, contact may be highly inappropriate and can have serious, long-lasting adverse effects on children (Cummings and Davies 1994; Jaffe, Lemmon and Poisson 2003; Reynolds 2001).
Despite a pre-occupation with allocations of parenting time (that is, the quantum of time) by many parents, legal professionals and courts 6, the research literature suggests that it is the quality of relationships between parents, and between parents and children, that exerts a critical influence on children's wellbeing (Amato and Gilbreth 1999; Pryor and Rodgers 2001). Of course, an emotionally close and warm relationship requires time to sustain it.
Parental separation is a leading cause and correlate of child poverty. Most studies indicate that the single factor most likely to lead to poor child outcomes - be they poor educational performance, emotional problems, anti-social or other behavioural problems, or health and developmental problems - is poverty and not separation per se (McLanahan 1999; Rodgers and Pryor 1998).
Taken together, the research literature suggests that the best interests of children are strongly connected to co-parental relationships and cooperation, parenting capacities and skills, and practical resources such as adequate housing and income. (For excellent overviews of the literature, see Arendell 1996; Benjamin and Irving 1989; Lye 1999; Pryor and Rodgers 2001; see also AIFS 2003 for a recent summary of this literature.)
Some commonly held truths
Arising out of her clinical practice, Ricci (1997) has developed a set of propositions about creating cooperative parenting arrangements. These ideas (Ricci 1997: 7-8) are likely to have particular use in the context of understanding different patterns of contact and their outcomes for family members:
'Children love, want, and need both parents'. Both parents are fundamental to a child's wellbeing and development. Both are central to a child's world, and neither is ever forgotten by him or her. The way that the divorce transition is handled, especially in relation to how a non-resident parent's 'absence' is handled, is of tremendous importance to a child.
'Each child is unique' (as is each family's circumstances). What one child can deal with, another cannot. The best interests of children should always be paramount in making decisions about contact, with the appropriateness of different patterns of care contingent on many factors, including the quality of care, as well as children's individual temperament, resilience, stage of development, and experience. (An important corollary of Ricci's proposition is that 'children's needs are not one-size-fits-all' (Mason 2000: 8) and that, along with parents' circumstances, they change over time. Dunn and Deater-Deckard (2000) suggest that parenting arrangements should thus be periodically reviewed, with children's voices central in this process.)
A good legal agreement does not guarantee a good outcome. A good legal agreement alone is often not enough to make good outcomes for everyone happen. Parents need to learn how to put their agreements into practice in daily life.
The way that parents relate to each other is critical. According to Ricci: 'Children do poorly when their parents are engaged in open hostilities and even worse when their parents involve them in the battle. The longer and more intense the war, the more potential long-term damage to their child.'
A 'good divorce',7including those involving children, is possible and worth the effort. The secret to the 'good divorce' is that there are standards of conduct. A good divorce takes work (as does a good marriage). These standards of conduct, maintains Ricci (1997), can be learned and worked at.
'Heavy metal' research: Its strengths and pitfalls
In Australia, the building blocks of knowledge on parent-child contact after divorce largely derive from population-based national surveys (such as the Australian Divorce Transition Project). These surveys (termed 'heavy metal' research because of the crude nature of their closed questions and their relative brevity and impersonal style) are good at collecting information on 'how-many-parents- do-x?' but not so good for tackling the more difficult 'why-do-parents-do- x?' questions. Examples of the latter include: Why this particular pattern of contact? Why don't children stay overnight? Why has contact faltered, tapered off or ceased? 'Why' questions are best addressed by more qualitative approaches, involving in-depth interviews or focus groups.8
In the United States, Melli (1999) has argued that research into parent-child contact needs to recognise and describe clearly the multiple qualitative and quantitative differences in the ways that separated parents can share the care of children.
The Australian Institute of Family Studies Caring for Children after Parental Separation Project collects both quantitative9 and qualitative information on different patterns of care. This report sets out the qualitative data from that project, derived from a series of focus groups with separated and divorced parents - the Parent-Child Contact Study. These data are also accompanied by survey data from a large representative sample of separated/divorced parents.
Structure of the report
Following a brief overview of the Parent-Child Contact Study methodology, five distinct patterns of non-resident father-child contact are examined. These are 50/50 'shared care' (Chapter 3), little or no contact (Chapter 4), holiday-only contact (Chapter 5), daytime-only contact (Chapter 6), and 'standard' contact (every-weekend or every-other-weekend) (Chapter 7). Points of convergence across the groups are then examined (Chapter 8).
To embed these findings in the wider national picture, a supplementary analysis is conducted using the most recent nationally representative data on economic and family-functioning issues available - data from Wave 1 of the Household, Income, and Labour Dynamics in Australia (HILDA) survey (Chapter 9).
Chapter 10 then synthesises and discusses the key findings, and sets out a number of practical and policy implications arising from the data.
By comparing the arrangements, motives, reflections and demography of separated parents with different patterns of parent-child contact, this report aims to shed light on what shapes different parenting arrangements and how these arrangements might be working for parents and children.
The intention was to allow the focus group participants to do as much of the talking as possible so that readers can access different family members' experiences of the many ways that contact can occur. Contact is not an end in itself but rather a means through which parents and children across two households can develop, sustain, and extend deep emotional attachments to one another - often in the face of conflict and physical distance. These attachments cut to the heart of who we are, and for this reason are best articulated by those who speak from experience.
1. Defined by the Australian Bureau of Statistics as at least 30 per cent of nights per year.
2. Defined as at least 30 per cent of nights per year.
3. This estimate looks somewhat historically durable (see Hirst and Smiley 1984; Harrison 1986; see also Funder 1989).
4. One would hope that children's best interests would always be paramount to parents' interests and needs.
5. The terms 'joint custody' and 'shared parenting' are especially problematic because they are often used without the distinction being made between 'joint legal custody' (decision-making) and 'joint physical custody' (children's living arrangements and residential schedules).
6. At then end of the day, time is essentially the only commodity that courts have to deal with in parenting disputes. This is in no way a criticism, but rather their reality.
7. Ahron's (1994) term is used here.
8. This does not necessarily mean asking 'why' questions directly to respondents.
9. Forty-minute telephone interviews have recently been conducted with 971 separated and divorced parents from around Australia. The data from these interviews are currently being analysed and are due for release in the next six months.