Parent-child contact and post-separation parenting arrangements
Research Report No. 9 – July 2004
You are in an archived section of the AIFS website. Archived publications may be of interest for historical reasons. Because of their age, they may not reflect current research data or AIFS' current research methodologies.
3. Fifty/fifty care
by Bruce Smyth, Catherine Caruana and Anna Ferro11
Focus group participants who speak in Chapter 3 Fifty/fifty care
Four mothers
CAMILLE separated two years ago and has since repartnered. She has two daughters aged 13 and ten. Her parenting arrangement involves a week-about schedule with the changeover occurring on Fridays after school.
KATHY, aged 40, has been separated from her former partner for five years. She has two children; a son and daughter aged ten and six respectively, who move between Kathy's and her former partner's house every two or three days.
RACHEL, aged 43, has been separated for eight years. She has two teenage daughters, Jane who is 19 and Jade who is 17, and is also the stepmother of 16- year-old twins. Her parenting arrangement involves a week-about schedule, which has been in place for seven years.
SALLY, aged 45, is the former partner of Rod (see below). Sally and Rod have been separated for five years. They still get along well and have a flexible parenting arrangement that enables their three teenage children to spend equal amounts of time with each of them.
Seven fathers
ANDREW, aged 48, has been separated for five years. He and his former partner share the care of their six-and-a-half-year-old daughter, Lisa, by way of a week-on, week-off arrangement. When Lisa was younger, Andrew had contact for three days each week, from Thursday evening until Sunday.
CONRAD, aged 58, has been separated from his former partner for ten years. He has one adult child, a 17-year-old son, and two stepsons aged 19 and 17 years. His parenting arrangement is a flexible one that is largely centred on his son's activities.
NIGEL, aged 53, has shared the care of his children since separating four years ago. He has two daughters, aged 18 and 16, and two sons aged 14 and 12 years.
PAUL, aged 46, has shared the care of his 13-year-old daughter since he separated six years ago. His parenting arrangement involves the children spending a week with him and then a week with his former partner.
ROD, aged 49, is the former partner of Sally (see above). Separated for five years, they have an amicable relationship, and their three teenage children spend equal amounts of time with each of them.
SIMON, aged 30, has shared the care of his daughters, aged seven and nine years, by way of a week-on, week-off arrangement, since he separated five years ago. He has since repartnered and has two stepchildren.
STEPHEN, aged 42, has been separated from his former partner for four years. He has a 13-year-old daughter and two sons aged 11 and eight years. He also has a week-about arrangement.
In order to protect the identity of all participants and their significant others, the names of people and places used in this report have been changed. To enhance the readability of the report, minor grammatical changes have been made to some of the quotes used.
'I notice that the one thing about the group as a whole is that all of us are here because we're putting the kids' welfare first, and most of us are getting on well with the ex because the kids are more important than the ex, or whatever... There are so many things where you just have to throw away the remote control and worry about the things that you can do.' [Andrew]
Superficially, 50/50 care may be perceived by many to be the Rolls-Royce model of post-separation parenting. It appears to be fair and simple. Indeed, these perceived qualities underpin a common view - certainly for non-resident parents - that shared care is a good idea (Smyth and Weston 2004).
The Australian Government recently investigated adopting a legal presumption of joint residence. Under such a presumption, the starting point in any legal proceedings would have been that children would spend equal time with each parent unless there was evidence that this arrangement would not be in children's best interests.
While recommending that 50/50 care be considered an aspiration by way of a 'starting point for discussion and negotiation', the Parliamentary Committee investigating this issue concluded that the amount of time that a child spend with each parent following separation 'be a decision made, either by parents or by others on their behalf, in the best interests of the child concerned and on the basis of what arrangement works for that family' (Commonwealth of Australia 2003: 32). In short, the Committee favoured the creation of a legal presumption of 'shared parental responsibility' (that is, decision-making) rather than the 50/50 timeshare of children.
Why the interest in 50/50 care? The parliamentary inquiry 'reflects the Government's commitment to ensuring that, to the greatest extent possible, children have the benefit of the love and care of both their parents when a couple separates' (Williams and Anthony 2003). This view is consistent with arguments put by advocates of joint residence that focus on the benefits for children of maintaining a close relationship with both parents (Bauserman 2002). By contrast, opponents of joint residence typically emphasise children's need for the stability of one main home and the potential harm for children of continuing to be exposed to ongoing high levels of parental conflict, parental neglect or mental health problems (Bauserman 2002; Brotsky, Steinmen and Zemmelman 1991).
Despite substantial interest in 'splitting; parental care 'down the middle' after separation, little is known in Australia about parents who opt for equal (or near equal) care of their children, how these arrangements are structured, and how well they work (see, for example, Abaranel 1979; Bauserman 2002; Braver and O'Connell 1998; Brotsky et al. 1991; Buchanan, Maccoby and Dornbusch, 1996; Krecker, Brown, Melli and Wymer 2003; Maccoby and Mnookin, 1992; Mason 2000 in the United States context; Smart, Neale and Wade 2001 in the United Kingdom).
This gap in our knowledge is not surprising given that such arrangements are relatively rare in Australia. Less than 3 per cent of children with a natural parent living elsewhere had 'shared care' arrangements in 1997 - defined by the Australian Bureau of Statistics (ABS 1998) as involving at least 30 per cent of time spent with each parent. Moreover, less than 4 per cent of parents registered with the Child Support Agency last year were deemed to have 'shared care' of their children - defined by the Child Support Agency (2003) as involving 40-60 per cent of time spent with each parent.
In this chapter, the arrangements, motives, and reflections of parents who have a joint residence parenting arrangement are examined.
The focus groups
Profiles of each of the focus group participants in this chapter are presented at the beginning of this chapter.
The following analysis is based on the responses of 12 separated or divorced parents (seven fathers in one focus group, five mothers in another), each of whom had an equal (or near-equal) shared care arrangement. Half of the parents had re-partnered (three mothers, three fathers). Two of the 12 parents were from the same former union.
All of the parents lived in relatively close proximity to their former partner. Seven of the 12 parents reported getting along well with their former partner, three said that they didn't get along too well, and two had little or no communication. All except three of the participants made their own parenting arrangements without involvement in the legal system. All of the men had reduced or relatively flexible work arrangements; all of the women were in paid work.
Parents in the 50/50 care focus groups appear to be a relatively distinct subgroup of separated parents. Their profiles shed light on the some of the basic conditions conducive to shared parenting: proximity, work flexibility, a degree of financial independence, and a cooperative co-parenting style - which perhaps largely explains why most of these parents did not seek legal interventions. Interestingly, two of the three parents (one male, one female) who did go to court are the same two parents who reported avoiding their former partners in their parenting patterns (that is, adopted parallel parenting).
Of course, there may be two types of cooperative parenting: active cooperation, involving deliberate actions of co-parental support (the most desirable type); and passive cooperation, involving avoiding demonising the other parent in front of children or refraining from making children act as messengers or spies. 12 While passive cooperation may not be the ideal, it may be the critical factor to make shared care workable where residual bad feelings between parents exist.
While this profile is informative in its own right, the following comments from parents point to great diversity in the way that parenting is shared and to family dynamics at play. Findings are structured in two parts. First, two vignettes are offered. Second, key themes that emerged from the interviews are presented.
Vignettes
Sally and Rod
Sally and Rod are from the same former union. They have been separated for four and a half years. They have two boys and a teenage daughter. Rod has repartnered but Sally has not. They have an extremely cooperative relationship and are happy with their shared parenting arrangement (see Figure 4). The complexity of their arrangement appears to be a function of each family member's need to have frequent contact with one another.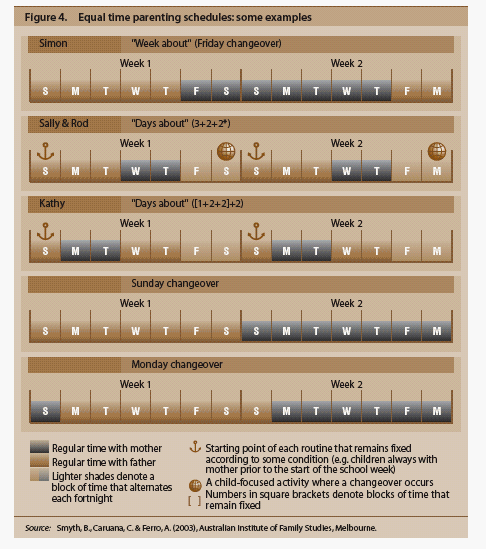 According to Sally:
'We have a very informal arrangement which we just arrived at ourselves... we have stuck to that for the sake of the children. And we do a little bit like what you were saying... the children are with me Sunday night, Monday night, Tuesday night - with Rod Wednesday night, Thursday night. And on the weekends we swap, so whoever's weekend it is has them on the Friday night and then the other person has them on the Saturday night and the Sunday, and then they come back to me on the Sunday night. It sounds mucky - but it works for us. None of us wanted to not see them for very long. I don't know how you do the-week-without-them thing. Neither Rod nor I would agree to that for a minute. We might now that they're at secondary school, but I couldn't have managed that personally when they were young.'
Sally and Rod's schedule is very child-focused in that the children's activities act as anchor points for changeover. For instance, on Saturdays, the boys play basketball. One parent arrives with the children. Both parents watch the game, after which the other parent takes the children. The weekend rotation means that weekend time (often viewed as 'quality' leisure time by parents) is shared so that Friday and Saturday night care is alternated, allowing both parents to have a social life.
In passing it is noteworthy that Sally and Rod had discussions this year with their children about changing the pattern of care. They were concerned that their teenage daughter might have wanted something a little different from her younger brothers. To both parents' surprise, all three children wanted to keep the pattern as it was.
Kathy
Kathy and her former husband have shared the care of their ten-year-old son and six-year-old daughter for five years. Kathy's arrangements (see Figure 4) and perceptions differ markedly in some ways from those of Sally and Rod. This may be because Kathy and her former partner have little contact with each other. Essentially they 'parallel parent'. They have been involved in extensive litigation regarding the children and have an extremely detailed order.
Kathy says:
'Well my arrangement is very rigid and we don't deviate or else I end up back in court. The children's changeover is predominately after school, so Monday night they go to their Dad's, then they get picked up from school. Tuesday they're at their Dad's. Wednesday I pick them up from school. Then they're with me Wednesday night and Thursday night. Weekends alternate and on his weekend he brings them back to me on the Sunday night. The kids adjusted to it. They get annoyed at times and say, 'I wish I didn't have to go' or 'I wish I didn't have to do this!' Because it's not an amicable situation there's lots of games being played - of socks not being returned and toys that can't be transferred, and things like that. We have issues around their possessions and then they're manipulated as part of a power struggle. So that becomes quite difficult. But in relation to the children, they know the routine... But how they'd like it, I don't really know at this stage because they just know that's what the judge said so that's the arrangement.'
It is interesting to note that one of the anchor points in both Sally and Kathy's schedules is Sunday night, whereby the children start the school week with their mother.
On this point, Kathy is clear:
'So that's basically how we set it up. He said 'I want 50/50' and I said 'well not quite' because at least at the beginning of the week I know they've gone to bed and, as I said, they were only really little. But there have been a lot of pitfalls... There were egos that we had to contend with as well as access. And quite often he forgets that the actions that he's taking are ultimately affecting them - they will affect me but I can get over it because I can see through it, whereas they are the ones that have to wear it and live with it, and that's where it's really hard.'
It is important to note that other 50/50 timeshare schedules were operating outside of those described above, with 'week about' being the most common arrangement. However, even in this pattern, there were differences in the day on which handover occurred (such as Friday or Monday).
INSIGHT
Which split?
There appears to be much diversity in how parents with 50/50 care divide their time with their children. Even in the most common pattern of shared care in the groups,'week about', parents differed on the day (and way) that the weekly changeovers occurred. 50/50 care may be 'fair', but it is rarely simple.
Key themes
Six key themes emerged from the data: (1) parents' motives; issues; (3) quality time versus quantity of time; (4) paternal logistical challenges; and (6) a child-focused mindset.
Parental motives
One of the transition questions we asked, 'Why this pattern of contact?', sought to identify the thinking behind different patterns of care. When we asked the co-parents in the 50/50 arrangements, 'Why shared care?', some gender differences emerged.
For a number of fathers, a sense of their own rights as parents - perhaps best characterised by what Smart and Neale (1999: 129) refer to as an 'ethic of justice' - appeared to be a key motivating factor.
For Rod, for instance, the relevant question was not 'why?' but 'why not?':
'I was quite adamant that I wanted 50 per cent on that because a male has got as much to give as a female, and the children were only very young. And I've got as much experience at bringing up children as my wife has, because it was her first experience as well.'
Simon's arrangement seems to have grown out of both default and his own sense of parenting rights:
'My ex is very busy. And also she left me so she had to go and find a place. So of course I was left with full custody of the kids until she found a new place. And also there was no way I was going to give up any more than 50 per cent, and she knew that I'd take that as far as I had to.'
Conrad viewed the shared arrangement as a compromise:
'I was after full custody. The best I got was custody of one, and shared care of the other.'
Andrew appeared to gain a split arrangement by default:
'My ex wanted to spend time with her new man, and I don't think she felt capable so she gave me the kid half time. Just because it was easier for her.'
Paul's motives were more child-focused, and in that regard were aligned with the mothers' views below:
'In my case it was that my own level of maternal drive, and also the fact that Mum knew I was very involved from day one, and would do that anyway. And just the principle that it's fair that the child needs to see the mother and the father.'
Mothers voiced two dominant motivations for 50/50 care. First, they felt that a high degree of father involvement was in their children's best interests. Second, they believed that fathers were entitled to maintain a key role in their children's lives. These motivations appear to straddle, to draw on Smart and Neale's concepts, an 'ethic of care' and an 'ethic of justice'.
Camille says:
'I thought it was crucial... the girls adored their Dad and despite his failings, and my failings as well, in our relationship, I wasn't going to let that cloud my judgment with him being a role model for them in the future. It just wasn't an option... And it's been fabulous for the girls and their relationship with their Dad. He takes them fishing, camping. He does more now than he did when we were married. Which is awesome. I just love it. It's great for the kids.'
In Sally's case neither parent wanted to be away from their children for too long:
'There just never seemed to be any option for us. We both wanted them and the kids wanted to be with both of us. So we just came to the best arrangement that we could. And there was no reason for them to be with me more than with him. There was just no question ever, and there hasn't been ever since. And the kids run out the door when he arrives - I could never imagine it being any other way really, for us.'
Rachel's motivation for a 50/50 arrangement appears to have derived from a strong moral position on the equal rights of parents - strong enough, it seems, to have overcome some serious concerns she initially had about her former partner (a Family Court counsellor advised Rachel not to leave the children in their father's care):
'You can't choose someone to father your children and then decide that it's not right to have anything other than equal access to your children. So it was a philosophical point of view. In practice, for many years I was worried I'd made a terrible mistake, and I think I'm nearly at the point where I think it's worked out well. But I believe I took a very big risk.'
INSIGHT
Motives - his and hers?
A range of motives for 50/50 care is evident.
For many of the fathers, a sense of their right (and need) to be involved as parents appears to have been a key motivating factor for 50/50 care.
By contrast, mothers appeared to be motivated by the rights of both the child and the father to continue their relationship. (Is this because high maternal involvement is taken is taken for granted, and thus mothers are able to look beyond their own needs?)
It may well be that as fathers take more individual care of their children, they become more child-focused.
Work and money
One of the most conspicuous features of the mothers and fathers in the 50/50 care groups was that all were in paid employment. Most of the parents appeared to have framed their work patterns to care for their children, such as by choosing to work a four-day week or less, working longer hours during the week the children were not in their care, or working part-time when they had the children. All appeared to have some degree of flexibility in their work hours. Some of the fathers had changed jobs (or stayed in jobs) to give them this flexibility.
For Andrew, being self-employed gave him the flexibility he needed to care for his daughter:
'I run a small business... I just always put my daughter first and the business second... If I show up on occasions with a kid in tow, clients don't mind. It works really well.'
Stephen adds:
'I work in the community sector and I work four days a week, and they're very flexible about it. The week that I haven't got the kids I work extra hours, and when I do have them I finish at school time.'
Rachel felt that the shared care arrangement had enabled her to further her career. She also felt that there were advantages for family life:
'I don't think my kids [would have got] to see me as much had I stayed with their father. Because in my job if I work longer hours it's in the week I don't have them, and so the week I do have them we all make an effort to be there and don't put other things on that week.'
Mothers in particular found that paid employment gave them the ability to make choices for themselves and their children. According to Rachel, money is a critical factor for shared care:
'I could imagine that money would be an extremely constraining factor in many arrangements like this [50/50 shared care]. I'm grateful that that's not been a big issue for us, but I'm certain it must be very difficult if you've not got good choices available to you.'
These comments allude to the logistical and economic pressures that are likely to face either parent in opting for shared care.
INSIGHT
The work-family balance
Parents who spend equal time with their children may need access to family-friendly work practices (or in its absence, access to good child care). Both mothers and fathers who opt for shared care generally appear to be in a financial position that allows them to make choices about their work-family balance.
The parent-child relationship
Both mothers and fathers spoke of how sharing the care of their children equally with their former partner enabled them be more child-focused when children were in their care. They used the time children were with their other parent to get organised, work longer hours, or go out with friends. They were thus able to spend more 'quality' time with children. It appears that for most of these parents the shared care arrangement promoted better parent-child relationships.
Rachel said:
'You're looking forward to the next time you have them, you're planning the next time you have them and you're clearing the way to be more family oriented.'
Simon also described the benefits of having a week to himself:
'I'll go and see the movies I want to see in the week when I don't have the kids. And then when I've got the kids, all through the week I try to be... organised for the kids.'
Camille felt that she made more effort to spend time with the children when they were with her:
'We really concentrate on having good quality time with them. That's really important to us because we miss them so much in the other week.'
A defining feature of the fathers with shared care was the way in which they viewed the time they spent with their children. They spoke of how the substantial amount of time they had children in their care gave them a chance to do simple everyday things with them - 'quality things'.
Andrew reflects:
'For me... basically it's quantity of time. Spending a lot of time together, just wandering around... with her on my shoulders when she was little enough to stay up there without killing me. Eating together... watching TV together - the day-to-day boring stuff.'
Nigel expressed many of the fathers' thoughts on this issue:
'What do I do with the kids? I'd say, I'm around them.
Being able to spend time with their children and participate in day-to-day activities with them enables fathers with shared care to develop and maintain close relationships with their children.
As Andrew put it:
'In most nuclear families, mum has the majority of time with the kids and she develops the closer relationship.'
Andrew viewed the shared care arrangement as providing him with a unique opportunity:
'One really interesting thing - and I don't know if you guys found it? - but the product of all the time you spent is the kind of different relationship you have... The sort of depth of relationship, and everything that normal fathers don't develop.'
INSIGHT
It's about time
The respite afforded by 50/50 care allows parents to more effectively balance their energy between their children and themselves. For fathers, 50/50 care allows them to spend more time with their children than might otherwise be the case. More time means that fathers can embed themselves in their children's lives - 'being' rather than 'doing'. In other words, quantity of time itself is thus seen as an important precursor to 'quality time'.
Paternal competence
Many of the fathers found shared care to be an extremely rewarding experience. This did not mean that they necessarily found it easy learning how to be a primary carer.
For example, Andrew provided a sharp image of his own growth in this regard at different points in the focus group interview:
'I felt terribly alone after the separation. Me and a 15-month-old baby and a broken heart, and a pile of nappies. Bloody traumatic. Just you and the kid. There's no mother, sisters, health care nurses. Nothing. But something that I found really interesting was that apparently nature has built all sorts of nurturing instincts in men that nuclear families have kind of forgotten about. It's all just there waiting to be discovered. And it's terrific to find it in yourself, to go for it... It's wonderful! I found one of the hardest things was getting in touch with my gut instinct, and then just having confidence in it.'
INSIGHT
The road less travelled
For some fathers, separation may entail learning how to become a more involved parent, or how to 'parent' independently. Practical and emotional support at this time may assist these fathers in managing role transitions and/or caring for very young children.
Logistical challenges
Shared parenting involving a 50/50 split appears to be a logistically complex parenting arrangement. Parents talked about the need to be organised, structured and to plan ahead given that children were spending an equal amount of time in two households. When moving from one home to the other, parents (and children) need to ensure children have all they need for the days or week ahead, such as equipment for activities and schoolbooks. In the case of extra-curricular activities, children can miss out unless both parents are willing and able to facilitate their involvement.
Shared care arrangements involving more changeovers (such as Sally and Rod's arrangement) can require an even greater commitment to ensure the transition for children between houses is a smooth one.
As Sally commented:
'So we do a lot of picking up and dropping off from each other's houses... constantly actually. All the time one of us is at the other's house, dropping off or picking up, so I don't know how you make it work if you're not prepared to do that either.'
The complexity of shared care became abundantly clear during one interchange between two fathers, Rod and Nigel:
Rod:
'We see each other all the time. Clothes?... I'm forever driving here and dropping off school clothes there...'
Nigel:
'We have three sets of everything - one in each household and one set lost somewhere in-between. And it's kind of true that stuff gravitates one way and you've got to say: 'Hey! I'm out of this!' or 'Where are all my towels?''
Rod:
'Or you do a big wash and say 'I've got everything!''
Nigel:
'That really depends in my case on reasonable relations with my ex-wife. Reasonable relations make so much possible.'
INSIGHT
Reasonable relations...
Shared care involves many logistical challenges. Parental cooperation can help to overcome these challenges.
Putting kids first
Nigel's final comment in the previous quote that 'reasonable relations make so much possible' embodies a key insight that Ricci (1997) and others (Funder 1993; Reynolds 2001) have previously articulated: the way that parents relate to each other after separation is crucial.
This, of course, is one of the key challenges for all parents who separate: being able to disentangle their prior intimate relationship from their parenting. It seems reasonable to assume that in Nigel's case 'reasonable relations' is his way of describing a structured business-like working relationship with his former partner for the sake of their children. The child-focused flavour of this working relationship was indeed a common thread that ran through many of the comments of mothers and fathers in the 50/50 care focus groups.
Camille reflects:
'Yes it's amicable. We just take our egos out of the equation and do what's best for the kids basically. All the time.'
Nigel is adamant on this point:
'We never use the kids as pawns... or as ammunition, or say: 'Who do you want to live with?''
And Andrew appears to be very committed to a cooperative parenting pattern:
'We keep a good working relationship... there's a lot of generosity towards each other, and we both remember that it's about the kids, and that's important.'
INSIGHT
For the sake of the kids
Parents who opted for 50/50 care generally got along with each other, respected the other parent's abilities, and worked hard to put their children's needs above their own.
Summary
An exploration of the arrangements, motives, and reflections of these parents provides unique insights into a range of contextual issues about sharing the care of children following parental separation. They suggest that parents' arrangements may often be logistically complex, and that those who opt for 50/50 care appear to share a number of common characteristics.
Specifically, a number of conditions - relational and structural - appear conducive to making shared care a viable option for separated parents. These conditions include: geographical proximity; the ability of parents to get along and, at minimum, to maintain a 'business-like' working relationship as parents with children being kept 'out of the middle'; child-focused arrangements, with children's activities forming an integral part of the way in which the parenting schedule is developed; a commitment by everyone to make shared care work; family-friendly work practices; a degree of financial independence, especially for mothers; and a degree of paternal competence.
This is not to say that all of these conditions must be met. Indeed, parents in at least two of the families did not get along and appeared to have some difficulty keeping children out of their bad feelings for each other. To what extent these arrangements, although 'functioning' in legal and technical terms, were nonetheless exacting a toll on the children is unclear. However, destructive patterns of family dynamics were not the norm in this small group. Virtually all of the parents in the focus groups had adopted a shared care arrangement from the time of separation, many had maintained this arrangement for a considerable length of time, and most had established this arrangement without any involvement with the legal system.
11. This chapter is an abridged version of a paper presented at the Australian Social Policy Research Conference at the University of New South Wales on 9-11 July 2003, and subsequently published in Family Matters.
12. We are indebted to Adrienne Burgess for sharing her thinking on this under-developed idea.