Fertility and family policy in Australia
Research Paper No. 41 – February 2008
You are in an archived section of the AIFS website. Archived publications may be of interest for historical reasons. Because of their age, they may not reflect current research data or AIFS' current research methodologies.
5. Australian Government family policies
In this section, we focus on those government policies that aim to help families with children through direct financial support: cash payments and tax measures designed to modify income or provide basic income support, assistance with the costs of chid care, and maternity and paternity leave.4
The income support system in Australia differs in important ways from the system in most other OECD countries. As Whiteford and Angenent (2002) noted, "Consideration of government policy statements suggests that there are two long-standing values that provide the basis of the Australian income support system. One is the recognition of government and community responsibility to assist those in need. The other is that private provision outside the social security system is to be encouraged as far as possible, with the income support system seen primarily as a safety net. This distinguishes Australia from most other developed countries - the primary focus of Australia's social security system is protection against poverty. In most other OECD countries, the primary principle is one of income maintenance across an individual's life-cycle, although many have poverty relief as an important additional objective" (p. 13).
In Australia, income support benefits are flat-rate and paid from general government revenue.5 There are no earnings-related features in the government benefit system and payments are made on the basis of categories (e.g., unemployed, disabled, primary carer). There is also an extensive system of supplementary payments for families with children. This includes direct cash assistance for over 80 per cent of all families with children (with those excluded being the highest income earners), and higher levels of assistance for those receiving income support payments or in low-paid jobs. Other payments include the maternity allowance, assistance with child care costs, housing costs for those renting privately, health care costs, and a range of concessions on other services.
Benefits are subject to income and assets tests, but these tests are generous compared to the income and means tests applying to social assistance in other OECD countries (Whiteford & Angenent, 2002). Benefits (in one form or another) are effectively available on an indefinite basis, subject to the means tests. Because payments are not contributory, coverage of the system is universal, subject to a range of residence requirements.
The significance of family payments has increased substantially in recent years. While comparing the level of family benefit expenditure over the last 15 to 20 years is not straightforward since the structure of family payments has changed significantly, it is estimated that between the years 1993-94 and 2003-04, expenditure on family payments increased in real terms by about 115 per cent, from $7 billion to $15.3 billion in 2003-04 dollars (Ministerial Taskforce on Child Support, 2005).
5.1 Family payments
The core of the family payments system in Australia is the Family Tax Benefit (FTB). The system of family payments comprises:
FTB Part A, a two-tiered payment linked to the number and age of children;
FTB Part B, to provide extra help for families with one main income, including sole parents;
Child Care Benefit (CCB) and Child Care Rebate, to assist families with their child care costs;
Baby Bonus (formerly known as the Maternity Payment), to assist families following the birth or adoption of a child; and
Maternity Immunisation Allowance, to encourage immunisation of children aged 18-24 months.
Families receiving FTB Part A may also be eligible for several additional components:
Rent Assistance, for private renters;
Multiple Birth Allowance, for the birth of triplets or more; and
Large Family Supplement, for the third and subsequent children.
The base FTB Part A rate recognises the costs of children for all but the highest income parents.6 Many families with relatively low household incomes are also given a supplementary payment as a component of FTB Part A.7 It is provided to ensure that parents on low incomes have enough money to maintain their children adequately. In the financial year 2007-08, parents with a household income of less than $41,318 are entitled to the maximum rates of FTB Part A.8 Payments of FTB Part A are for each child.
FTB Part B provides additional assistance to sole-parent families and two-parent families with only one main income earner. The amount received is based on the age of the youngest child.9 Unlike Part A, Part B is not paid for each child. For a couple, this payment is not income tested on the higher earner's income, but on the income of the lower income earner. Under the FTB Part B income test, the lower earner can earn $4,380 each income year before the payment is tapered out at 20 cents for each dollar of income. For sole parents, there is no income test.
5.2 Parenting Payment
The Parenting Payment is an income support payment for both sole and partnered parents. However, it is only payable to one member of a couple. An alternative income support payment, such as Newstart Allowance (for unemployed people looking for work), may be payable to the other member of the couple.
A number of changes were made to the Parenting Payment from 1 July 2006. These changes were made as part of the Welfare to Work package - measures that are aimed at increasing the rates of paid employment of those in receipt of income support payments.
Principal carers who went on to Parenting Payment (Partnered) on or after 1 July 2006 receive the Parenting Payment until their youngest child is 6 years old. When their youngest child turns 6 years, these parents need to test their eligibility for another income support payment if they still require such support. People on unemployment-related payments who are principal carers have an obligation to look for part-time work of at least 15 hours per week. Principal carers who are single parents and went on to the Parenting Payment (Single) on or after 1 July 2006 are eligible for Parenting Payment until their youngest child turns 8 years. At that time, they also need to test their eligibility for another income support payment, usually an unemployment-related payment (e.g., Newstart Allowance).
Those who started receiving Parenting Payment before July 2006 are eligible to continue to receive Parenting Payment until their youngest child turns 16 years (subject to continuing eligibility). From 1 July 2007, eligibility to continue receiving Parenting Payment is subject to meeting a part-time participation requirement, or when their youngest child turns 7 years, whichever is later.10
5.3 Child care
Assistance with the costs of child care is provided through CCB. CCB is paid for hours of care used in approved or registered child care. The maximum rate of CCB ($3.37 per hour for children who are not yet at school) applies to those with a family income under $35,478 or who are in receipt of income support payments.
Additional assistance with the costs of children is provided by the Child Care Tax Rebate. The Child Care Tax Rebate covers 30 per cent of out-of-pocket child care expenses paid for approved child care, less any CCB received. The rebate is payable to a maximum of $4,354 per child per year. The Child Care Tax Rebate applies to child care costs incurred from 1 July 2004. The rebate is received at the end of the tax year in which the child care expenditure was made, that is, after a full year of eligibility for CCB has been completed.
5.4 Baby Bonus
The Baby Bonus is paid to families following the birth or adoption of a baby. It is payable to: a parent of the baby; families who have care of a newborn child within 13 weeks of the child's birth and who are likely to have care of the child for no less than 13 weeks; and families who have a child entrusted to their care for adoption before the child is two years of age. (In the case of overseas adoptions, families are eligible for this payment if the child enters Australia before his or her second birthday.) Usually, the payment is made as a one-off lump sum payment of $4,133. For multiple births, the Baby Bonus is paid for each child; for example, $8,266 is currently paid for twins. No income or assets tests apply. The Baby Bonus came into effect in the financial year 2004-05 at a value of $3,000. It will increase to $5,000 for babies born after 1 July 2008.11
5.5 Maternity and paternity leave
Australia does not have a statutory system of paid maternity or paternity leave. Permanent full-time and part-time employees, as well as regular casuals who have at least 12 months of continuous service with an employer, can take up to 52 weeks of unpaid parental leave following the birth or adoption of a chid. There is no statutory right to paid maternity or paternity leave. Employees can negotiate paid maternity or paternity leave with their employer. In 2004, 41 per cent of women and 31 per cent of men had access to paid maternity or paternity leave in their job (ABS, 2004).
While these are key supports to families, it is important to note that families may have access to several other forms of support, such as access to free education for school children, bulk-billing of basic medical services, and concession cards that enable low-income families to receive various goods and services at a reduced cost (e.g., pharmaceuticals, public transport).
The purpose of this benefit package can be better understood when it is compared to the amount of assistance in other countries. This can be achieved by expressing the amount of a country's public spending on families as a percentage of its GDP. Figure 6 provides such data for 2003 in a number of OECD countries, including Australia. Australia's family spending was about 3.3 per cent of GDP, which is towards the higher end among OECD countries.
Figure 6. Family spending in cash, services and tax measures, percentage of GDP, 2003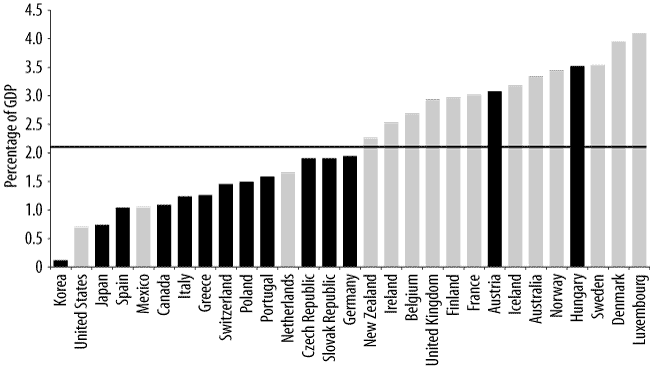 Notes: Public support accounted here only concerns public support that is exclusively for families (e.g., child payments and allowances, parental leave benefits and child care support). Spending recorded in other social policy areas, such as health and housing support, also assists families, but not exclusively, and is not included here. Columns that are in black indicate a TFR of 1.5 or less in 2004.
Sources: OECD (2007) and Population Reference Bureau (2006)
Figure 7 shows that public expenditure on families in Australia has increased considerably since 1980. While the latest figures available are for 2003, the level of family payments has increased quite substantially in Australia since that time.
Figure 7. Family spending in cash, services and tax measures, percentage of GDP, 1980-2003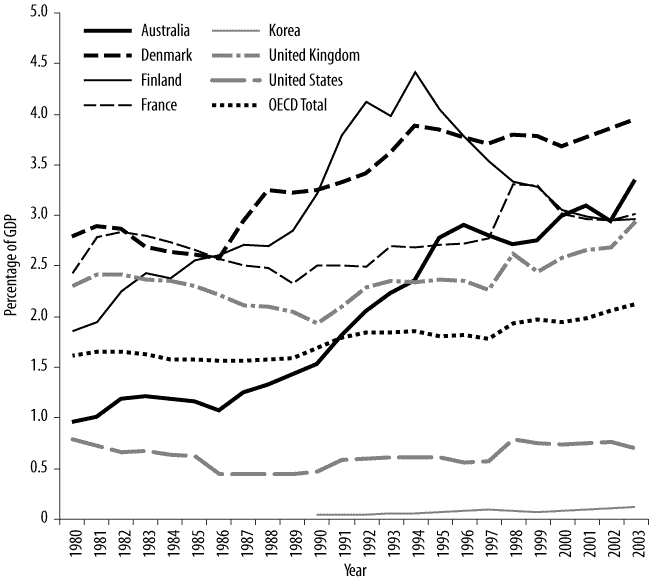 Source: OECD (2007)
There has been a great deal of discussion as to whether the recent up-turn in fertility rates in Australia is a direct result of government initiatives in the area of assistance to families (especially the Baby Bonus). As discussed in this paper, the level of financial support that the Australian Government provides to families with children has increased substantially, a factor that appears to be positively related to fertility rates. While the research evidence about this question is limited, McDonald (2006a) reported that early data on the introduction of the Baby Bonus indicate that "in the first full quarter in which births could have been affected by the new payment (June Quarter 2005), there was an increase of 10 per cent in the number of births compared to the same quarter in the preceding year" (pp. 224-225). This is consistent with the findings of studies from a range of countries into the impact of this type of maternity payment on fertility rates (e.g., Adkins, 2003; Gauthier & Hatzius, 1997; Milligan, 2005). Although there is some evidence that the maternity payments had an impact upon fertility, it is difficult to determine whether this was caused by changes in the financial incentives to have children or by the publicity around the payment that emphasised more broadly the importance of having children to the parents and society.12
4 This refers to the Australian income support system as of 1 July 2007. Information on payments is available from the Australian Government publication, A Guide to Australian Government Payments (Centrelink, 2007).
5 The description of the Australian income support system in this section draws heavily on Whiteford and Angenent (2002).
6 The base rates of FTB Part A are $46.90 per fortnight for dependent children aged under 18 years and $63.00 for dependent children aged 18–24 years.
7 The maximum rates of FTB Part A are $145.46 per fortnight for children aged under 13 years, $179.76 for dependent children aged 13–15 years, $46.90 for dependent children aged 16–17 years and $63.00 for dependent children aged 18–24 years.
8 A household income above $41,318 reduces the amount of FTB Part A by 20 cents for every dollar received until the payment reaches the base rate. FTB Part A stays at the base rate until the family income reaches $91,542 a year (plus $3,650 for each dependent child after the first). The payment decreases by 30 cents for every dollar over that amount until it reaches zero.
9 The maximum rate of FTB Part B that can be received is $125.02 if the youngest child is aged under 5 years, and $87.08 if the youngest child is aged 5–15 years (or 16–18 years if a full-time student).
10 For single parents, the Parenting Payment can be up to $525.10 per fortnight. Income above the "free area" reduces the rate of pension payable by 40 cents in the dollar. The free area is $156.60 for a single parent with one child. Each additional child adds $24.60 to the free area. For partnered parents, the Parenting Payment can be up to $382.80 per fortnight. It is taxable and income-tested on the income of both the claimant and the partner. The claimant's income reduces the rate by 50 cents for each dollar between $62 and $250, and by 60 cents for each dollar above $250 per fortnight. For partners who are not pensioners (income support payment recipients), incomes up to $732 per fortnight have no effect on payments, while incomes over this amount reduce the rate by 60 cents for each extra dollar. If a partner is in receipt of a pension, for maximum payment the couple's combined income must be no more than $124 per fortnight. A couple's combined income reduces payment by 25 cents for each dollar between $124 and $500, and by 30 cents for each dollar above $500 per fortnight. Parenting Payment (Single) recipients also receive the Pharmaceutical Allowance of $5.80 per fortnight.
11 The Baby Bonus replaced a previous policy that operated as a refundable tax offset and the Maternity Allowance, a means-tested payment to families receiving FTB A. At the time of the change (1 July 2004), the Maternity Allowance was worth $842.64 per child for eligible families.
12 Discussions in the media on fertility may raise the awareness of issues about having children.