You are in an archived section of the AIFS website. Archived publications may be of interest for historical reasons. Because of their age, they may not reflect current research data or AIFS' current research methodologies.
Family Matters No. 27 - November 1990
Getting to work in Sydney and Melbourne
Andrew Burbidge
Abstract
Data from the 1986 Census reveal the use made of public transport by men and women travelling to and from work in Melbourne and Sydney. The data indicate that the proportion of people using public transport is higher in Sydney than in Melbourne and that in both cities women, particularly women from low income areas, are more likely to use public transport.
How do mothers manage to juggle the competing needs of children, the household and, often, paid employment, particularly where they are living in the newly developed outer suburbs?
In preparation for the Institute's major new study, 'Families, Work and Living Standards' (see elsewhere in this issue for details), available data are being gathered on where people live and work, how they get to work and the availability of child care.
Interesting insights into the use made of public transport by men and women in travelling to and from work in Sydney and Melbourne, and the importance of public transport to women from lower income suburbs, are provided by the 1986 Census. (The Census did not collect information on non-work travel.)
As shown in the diagram, the proportions of people using trains, trams, buses or ferries to get to work is substantially higher in Sydney than in Melbourne, partly because of the higher proportion of jobs in Sydney's central business district compared with Melbourne's.
In both cities, the use of public transport services for journeys to work tends to decline with distance from the central business district, particularly where a suburb is not on a rail line. The pattern for higher rates of use in Sydney appears to apply for suburbs at varying distances from the central business district.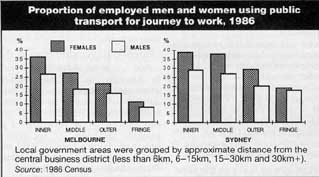 Although many mothers have the major responsibility for child care arrangements and shopping, employed women are much more likely than men to be juggling these tasks and to be travelling by public transport. (The Institute is seeking more detail from the Australian Bureau of Statistics to examine the travel patterns of mothers with young children.)
Data for individual local government areas suggest that public transport is particularly important for women in low income suburbs. In Melbourne's middle distance suburbs, for example, women from Footscray, Northcote, Sunshine and Coburg were most likely to use public transport to get to work (more than 30 per cent), and those from the high income suburb of Brighton the least likely (16 per cent). In Sydney's middle distance suburbs, employed women were most dependent on public transport in Burwood, Ashfield, Canterbury and Rockdale, and least dependent in the high income suburbs of Ku-ring-gai, Ryde and Lane Cove.
While public transport can be time consuming and frustrating, these figures suggest that access to public transport is very important for women's employment, particularly those in low income families.