Household division of labour from 1991 to 2016
Content type
Facts & figures
From 1991 to 2016, the number of mothers in paid employment increased. However, despite changing attitudes to parental roles, parents' employment remains very gendered, with fathers far more likely to be working full-time than mothers. The percentage of stay-at-home dads (3–4%) has barely changed since 1991.
Parents and their employment
The percentage of parent couples with children under 18 years where both partners work is increasing steadily, from 53% in 1996 to 61% in 2016. There has been a corresponding decrease in the percentage of stay-at-home mums.
Source: Australian Census, customised data reports
Dividing the work
Work–family arrangements in Australia are very gendered.
Based on averages of time use estimates reported by parents (with children aged under 15 years) over the period 2002–15:
Fathers work, on average, 75 hours a week. Of that, 46 hours is on paid work, 16 hours is on housework and 13 hours is on child care.
Mothers work an average of 77 hours a week: 20 hours is paid work, 30 hours is household work and 27 hours is child care. 
These divisions of labour are closely related to the age of the youngest child in the family. For example, for families in which there is a baby – a child aged under one year – fathers rarely change their employment participation, while mums typically take some time out of work, and when they return they frequently work part-time.
Source: HILDA pooled data from 2002 to 2015 (Waves 2 to 15)
Leave taking changes for mothers and fathers
In the 2015 HILDA survey, parents were asked about their employment and formal leave-taking (paid or unpaid leave agreed with their employer) around the birth of their most recent child. Here these data are presented for those parents whose most recent child was born during the years 2004 to 2015. 
Around 30% of the mothers reported not being employed before their most recent birth. For many this will have been because they had not gone back to work after a previous birth: for first-born children a much smaller percentage of mothers were not working before the birth (not shown). 
When leave-taking is compared by year of most recent birth, this shows that women are increasingly likely to take leave after a birth rather than leave work. 
Fathers too have increased their likelihood of taking some leave – rising from 25% to 49% – but many are still taking no leave at all.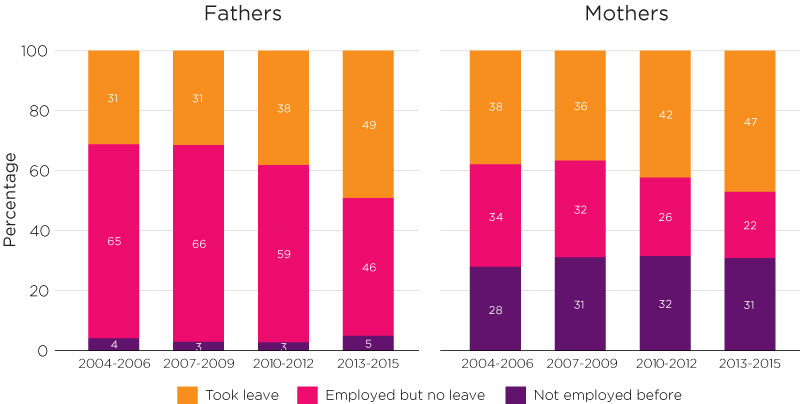 Note: Refers to leave taken by parents after the birth of the most recent child at 2015 by the year of that birth.
Source: HILDA Wave 15, 2015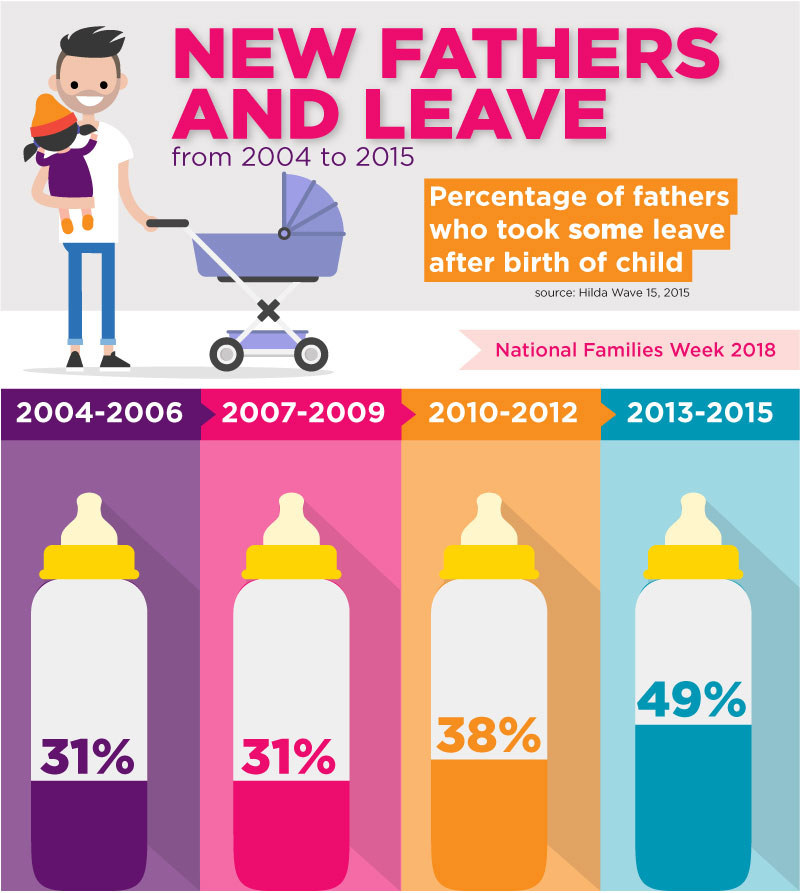 Note: Refers to leave taken by fathers after the birth of the most recent child at 2015 by the year of that birth.
Work arrangements used to care for children
Fathers and mothers in paid employment report using very different working arrangements to care for children. 
Almost 60% of fathers do not use any flexible working arrangements to help care for children compared to one-quarter of mothers. More than 40% of mothers work part-time, compared to only 4–5% of fathers. 
The most common arrangement for both parents is flexible working hours. The next most often reported working arrangement is working from home. 
Employment arrangements of parents of children aged under 12 years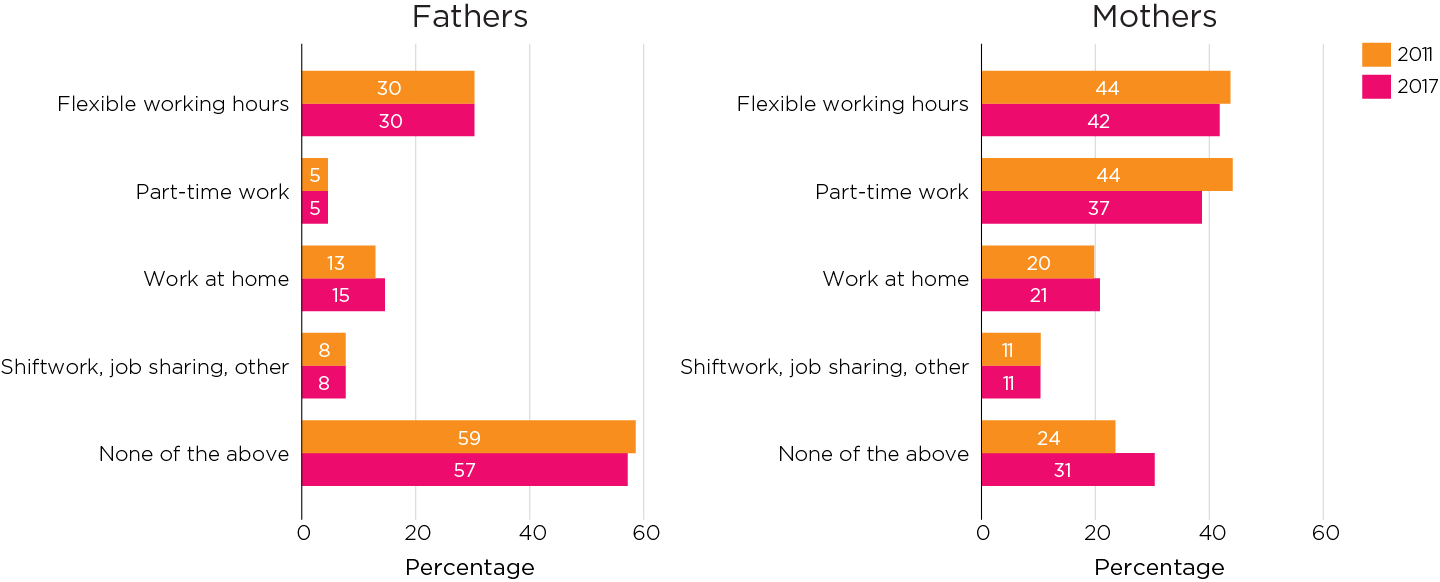 Note: Excludes if parent not present (e.g. fathers stats exclude single mother families) or parent not employed
Source: ABS Childhood Education and Care, June 2011 and 2014, 2017: Employed parents with children aged under 12 years.