You are in an archived section of the AIFS website. Archived publications may be of interest for historical reasons. Because of their age, they may not reflect current research data or AIFS' current research methodologies.
Family Matters No. 35 - August 1993
Family facts: Divorce trends
Abstract
This article presents current trends in divorce in Australia. It covers the number of divorces, the divorce rate, reasons for divorcing and numbers of children involved.
In 1991 there were 45,630 divorces granted throughout Australia, representing a 7 per cent increase from 1990 (42,635). The crude divorce rate rose from 2.5 per 1000 population in 1990 to 2.6 in 1991.
Currently, about 40 per cent of marriages can be expected to end in divorce.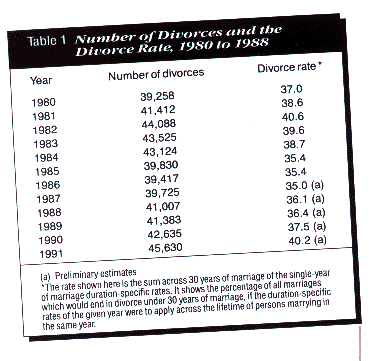 Adding a small fraction for marriage breakdowns which are never formalised by divorce, we can estimate that about 43 per cent of marriages end in separation within 30 years of the marriage.
Facts and figures
The divorce rate from second marriages is a little higher than that from first marriages. In 1986, about 38 per cent of second marriages compared with about 34 per cent of first marriages ended in divorce.
Little is known about the breakdown of de facto relationships, but the rate is likely to be quite high. In a sample of de facto couples who had a birth in 1984, 19 per cent were no longer together 18 months after the birth of the child.
The median age at divorce in 1991 was 38.4 years for men and 35.5 years for women, both representing increases of 0.2 years compared with 1990.
The median duration of marriage was 10.3 years for people divorcing in 1991 compared with 10.1 years in 1990.
In the early 1980s, in 57 per cent of cases the decision to separate was made mainly by the wife, and in 26 per cent of cases the decision was made mainly by the husband. In the remaining 17 per cent of cases, the decision was joint.
Is the divorce rate increasing?
Divorce rates in the mid-1960s showed that about 10 per cent of marriages ended in divorce. The accompanying graph shows the very large number of divorces occurring in 1976, the first year of operation of the Family Law Act 1975.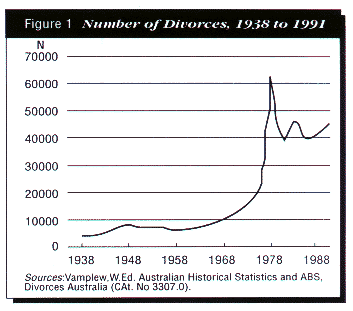 The 'no fault' provisions of the new Act enabled many people to divorce sooner than they would have done under the previous law, and led to a heaping of divorces into one year, 1976.
This peak subsided by the end of the 1970s. A secondary peak occurred around 1982-83, perhaps reflecting the economic recession of the 1980s, with another peak beginning to appear in 1991, perhaps reflecting economic recession at this time.
Reasons for divorcing.
The Institute's first study of divorced people, the Family Dissolution/Re-formation Study, involved analyses of interviews obtained from randomly selected people who were divorced in 1979 through the Melbourne, Parramatta and Perth Family Courts.
Respondents were asked what made them first think about separating. The main group of reasons were to do with problems with the relationship, such as lack of communication with the other partner, feeling neglected and/or unloved, and constant arguments.
Divorce and children
It is estimated that 3.9 per cent of Australian children will have experienced the divorce of their parents by the time they are five years old, 10.2 per cent by the time they are ten, and 16.5 per cent by the time they are sixteen.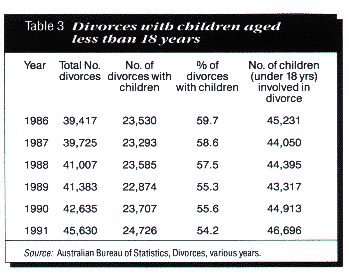 Further AIFS reading
Carmichael, G. and McDonald, P. (1988), 'The rise and fall(?) of divorce in Australia 1968-1985', Paper presented at the Population Association of America Meeting, San Francisco.
McDonald, P. (1993), Family Trends and Structure in Australia, Australian Family Briefings No.3, Australian Institute of Family Studies, Melbourne.
McDonald, P. (1990), 'The 1980s: social and economic change affecting families', Family Matters, No.26, April, pp.13-18.
McDonald, P. (1988), 'Trends in marriage and divorce in the USA and Australia compared', Family Matters, No.21, August, pp.27-28.
Ochiltree, G. (1990), Children in Australian Families, Longman Cheshire, Melbourne.
Ochiltree, G. (1988), 'The effects of marital disruption on children: an overview', Family Matters, No.22, December, pp.5-11.
In this issue
Features
Regulars