Gambling participation and at-risk behaviour in problem gambling among Victorian adults
Content type
Research snapshot
Researchers
Rukhsana Tajin, Kei Sakata, Tayyab Khokhar, Rebecca Jenkinson
Download Research snapshot
Overview
This paper presents estimates of the prevalence of gambling participation (any expenditure on gambling activities in a typical month in 2015), annual gambling expenditure and gambling-related problems among Victorians aged 18 years and over, based on Wave 15 of the nationally representative Household, Income and Labour Dynamics in Australia (HILDA) Survey.1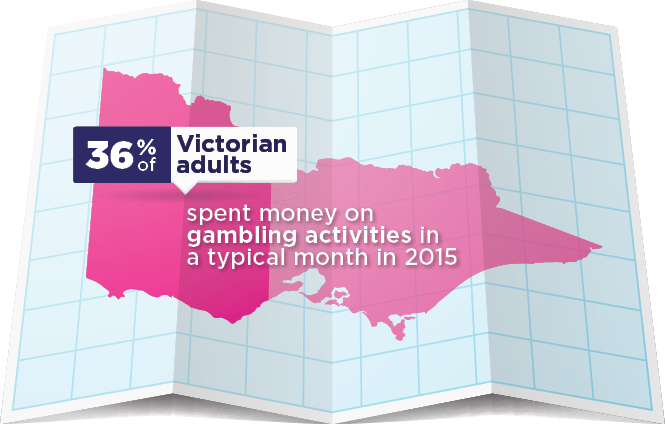 1 The HILDA Project was initiated and is funded by the Australian Government Department of Social Services (DSS) and is managed by the Melbourne Institute of Applied Economic and Social Research (Melbourne Institute). Wave 15 was administered in 2015.
Key messages
One-third of Victorians (36%, or around 1,587,709 adults) spent money on gambling activities in a typical month in 2015.

Victorian adults who gambled were mostly: male (55%); aged fifty or over (56%); Australian-born (75%); employed full-time (46%) or retired (25%); married or in a de facto relationship (62%); and living in a major city (74%).

Lotteries were the most common activity to spend money on (76% of people who gambled or 27% of all Victorian adults), followed by electronic gambling machines (EGMs)/'pokies' (21% of people who gambled or 8% of all Victorian adults) and race betting (17% of people who gambled or 6% of all Victorian adults).

Victorians who gambled spent an average of $1,268 annually on gambling activities in 2015; EGMs accounted for the highest annual expenditure ($1,288), followed by bingo ($1,252) and race betting ($1,211).

Around 18% of Victorians who gambled (or 8% of all Victorian adults) were classified as being at risk of, or already experiencing, gambling-related problems.

Future waves of the HILDA Survey will be analysed to measure changes in gambling participation and related problems over time.
Acknowledgements
This research was funded by the Victorian Responsible Gambling Foundation (VRGF). Special thanks go to Rosa Billi and Kristal Yeung at the VRGF for their support and guidance throughout the research process, and to our current and former AGRC colleagues who have contributed to this project, namely Andrew Armstrong and Megan Carroll.
---
Featured image: © GettyImages/halbergman
Download Research snapshot