Needs and impact survey insights
Content type
Short article
The child, family and community welfare sector provides services that are vital to improving outcomes for Australian families. The Child Family Community Australia (CFCA) information exchange is committed to engaging with the sector to ensure access to reliable evidence to inform practice and improve outcomes for families.
To understand the areas of practice you are most interested in, we conduct a biannual Needs and Impact Survey. This also tells us how you want to receive information.
This short article provides a summary of what you told us in November 2021 and shows how we will use these insights to develop resources throughout 2022.
The survey
Our Needs and Impact Survey was live from 28 October to 12 November 2021. The survey sought insight on professionals' evidence needs, as well as the usefulness and use of CFCA resources, to inform the development of CFCA resources.
Who responded
The survey received 1,233 responses from a range of child, family and community welfare professionals. There were 651 full responses and an additional 582 partial responses from across all states and territories.
Responses came from across the sector, including professionals working in service delivery, policy, research and evaluation. The top three organisation types represented were family support service, government, and education and training (see the figure below). Respondents were most likely to be employed as caseworkers, clinicians or coordinators/team leaders.

What you told us
Areas of practice you were interested in
We provided a list of 43 areas of practice and asked you to select any or all areas you need evidence-based resources on. More than half of you were interested in domestic and family violence, mental health and wellness, child abuse and neglect, and working with children and young people (see the figure below your top 10 areas of interest).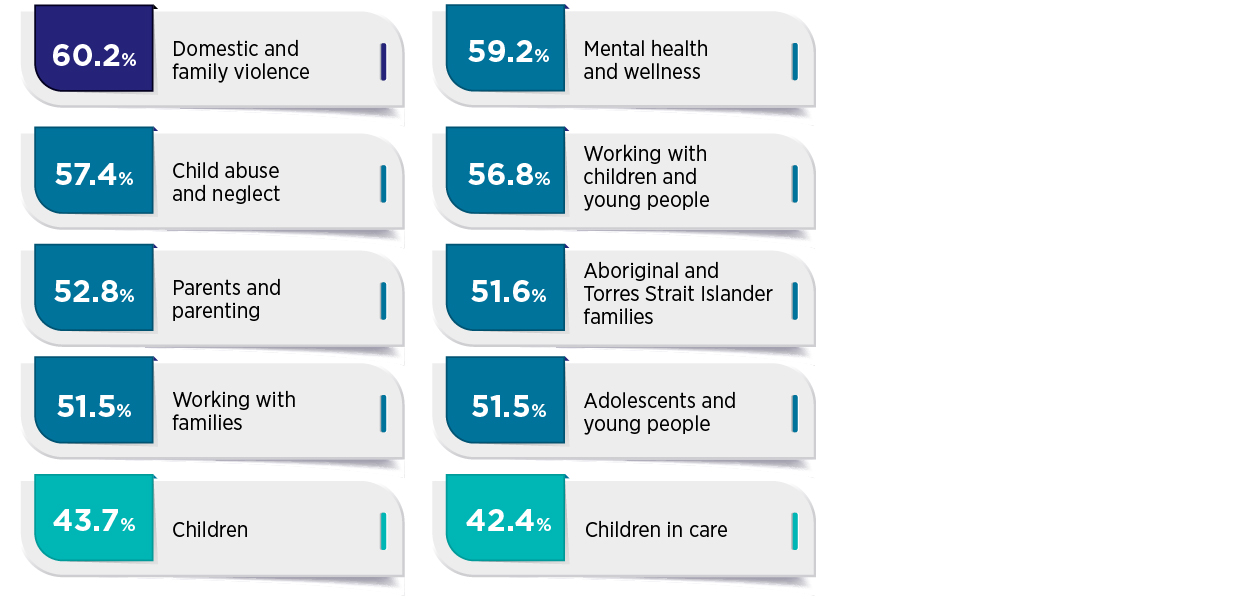 The next figure compares the top 10 ranked areas of practice in May and November 2021, showing shifts within overall rankings across the six-month period. The areas with the greatest increases were children in care (moved up eight places), working with children and young people (up six places) and Aboriginal and Torres Strait Islander families (up six places).
You also provided additional information about other areas of practice, subtopics within these areas and practice issues, demonstrating consistent and broad interest in: mental health (especially trauma and neurodiversity); CALD and Aboriginal and Torres Strait Islander appropriate resources and interventions; and experiences where young people are violent in the family home or in romantic relationships. You told us that you are particularly interested in the overlap between young people, domestic and family violence, and mental health.
How you want to receive information from us
We asked which CFCA resources support you to use evidence in your work. Webinars were rated the highest for supporting evidence use, followed by the newsletter, and practice guides and resource sheets (see the figure below).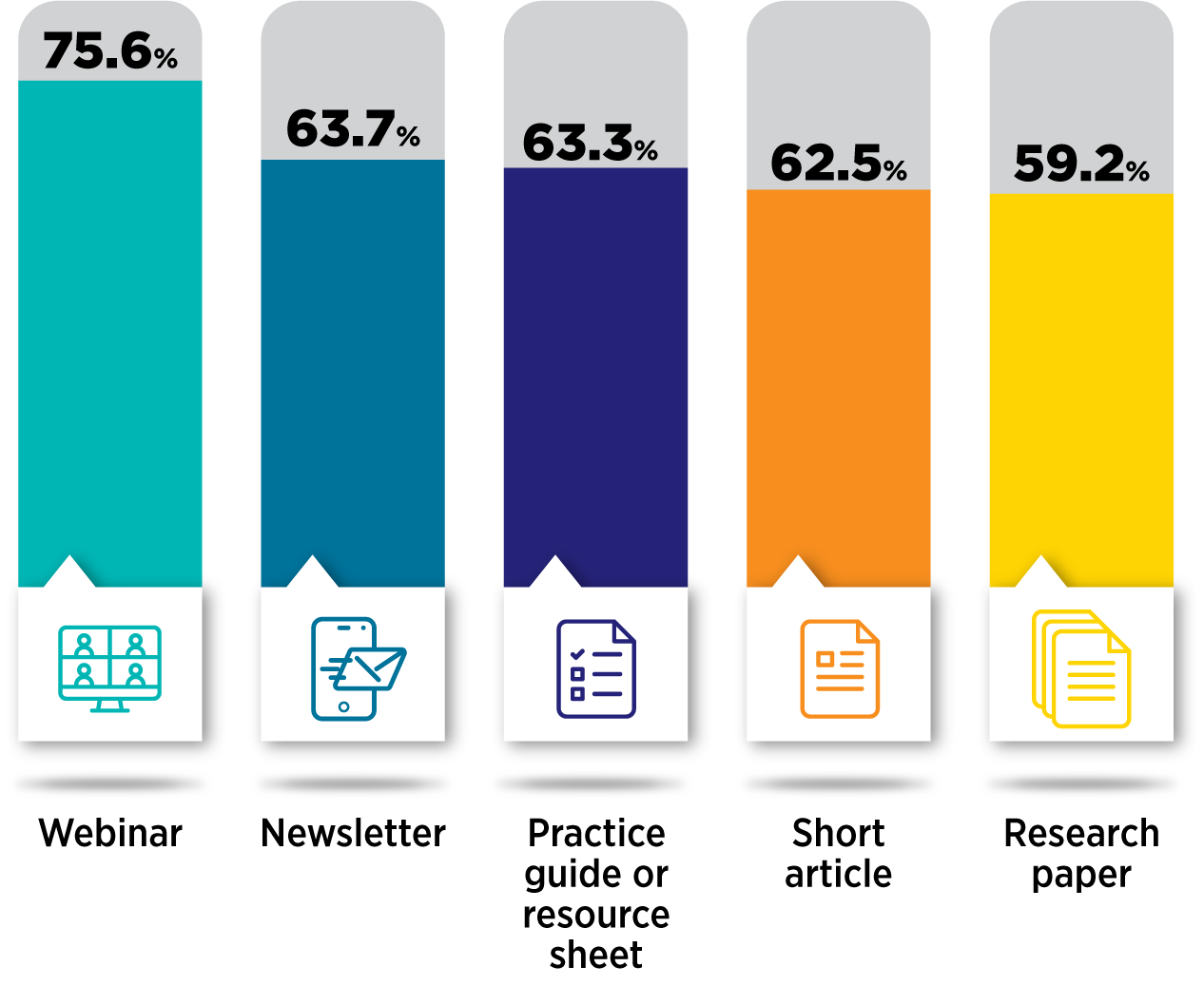 For each of the top three job groups, webinars, newsletters and short articles were rated highly. For clinicians, practice guides or resource sheets were rated equally with short articles.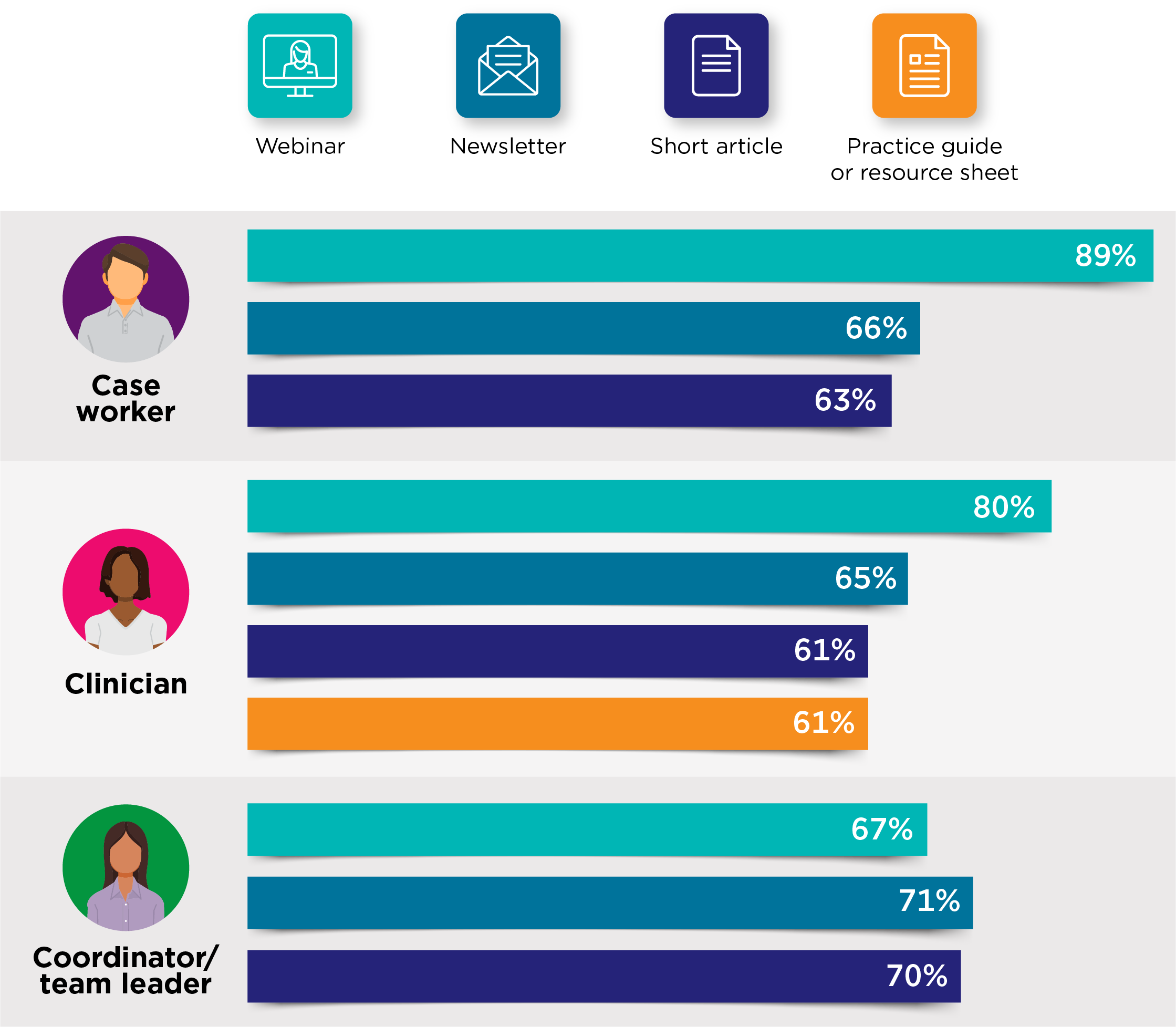 How we will use this information to inform the development of resources
CFCA has begun to develop bundles of evidence resources on the areas of practice that are important to you. These evidence 'packages' will be based on rigorous evidence reviews to produce a coordinated set of resources including practice papers, evidence to practice guides, resource sheets, short articles and webinars.
This range of resources will support the sector to access evidence in a format that is most useful for them and provide opportunities to access both in-depth and foundational information in shorter formats to support practice and decision making at different levels.
In response to the increased interest in domestic and family violence and working with children and young people, CFCA is developing resources on coercive control, trauma-focused practice, and supporting children and families with disability.
Future opportunities
We have valued the opportunity to hear from you and understand how we can support you to make evidence-informed decisions. We will continue to use what you told us to guide the development of our resources.
We'd like to thank everyone who completed our survey and shared their experiences with us. For anyone who was not able to participate and would like to get in touch, please contact us.
We look forward to learning about your insights in our next Needs and Impact Survey and throughout 2022.